JAZZ FM 2017 LIVE EXPERIENCE OF THE YEAR (PUBLIC VOTE)                                          WINNER :                       
ORPHY ROBINSON ALL STARS  
'BOBBY HUTCHERSON SONGBOOK' AT CHURCH OF SOUND. 
Jazz FM Awards 2017 UK and international stars from jazz, blues, soul and film honoured in London.
Hosted by Jazz FM presenter, Jez Nelson, an impressively varied mix of UK and international artists from the worlds of jazz, blues and soul were honoured at the fourth Jazz FM Awards on Tuesday night. Taking place in the stunning surroundings of the Assembly Hall – a grand, high-ceilinged room located on the first floor of Shoreditch Town Hall (a Grade II listed building) – the evening kicked off with a tribute to Ella Fitzgerald. Laura Mvula, having just received the Soul Artist of the Year Award, performed "The Man I Love" from Fitzgerald's peerless Gershwin Songbook.
The tribute was especially fitting on two counts. Firstly, it was the 100th anniversary of Fitzgerald's birth. Secondly, way back in 1990, she had helped to launch Jazz FM with a brace of concerts at the Royal Albert Hall.
A strong presence on the UK jazz scene since the 1990s who released her long-awaited debut album, Solo Gemini, last year, pianist and composer Nikki Yeoh was a hugely popular choice for Instrumentalist of the Year. (Pictured below left: Nikki Yeoh, photo courtesy of Hannah Young.)
With a shortlist that included Donny McCaslin's Beyond Now, Gregory Porter's Take Me to the Alley and Kurt Elling's The Beautiful Day, Album of the Year (one of three categories voted for by the public) went to a little-known beat combo by the name of The Rolling Stones, for their album of blues covers, Blue & Lonesome.
In a recorded video message, album producer Don Was said of the band: "When they kick into gear, the whole becomes far greater than the already gigantic sum of the parts. That's exactly what happened during the making of Blue & Lonesome."
The trio of Charlie Watts, Mick Jagger and Ronnie Wood took to the stage a second time to collect the Blues Artist of the Year Award. If they play their cards right, they could make quite a name for themselves.
A previous recipient of the Instrumentalist of the Year Award in 2015, sax player, bandleader and composer Shabaka Hutchings (Sons of Kemet, The Comet is Coming, Shabaka and the Ancestors) was voted by the public as UK Jazz Act of the Year. (Pictured below right: Shabaka Hutchings, photo courtesy of Hannah Young.)
US drummer Jaimeo Brown was honoured with Jazz Innovation of the Year for his Transcendence project, South London duo Yussef Kamaal were named Breakthrough Act of the Year, and DJ, radio presenter and record label owner Gilles Peterson picked up the Digital Initiative of the Year Award in recognition of his new global music radio platform, Worldwide FM, which launched in September last year.
In the third and final category voted for by the public, it was hugely gratifying to see vibes player and mulit-instrumentalist Orphy Robinson win the Live Experience of the Year Award for the acclaimed Bobby Hutcherson Songbook at St James the Great, London.
Presented to him by Van Morrison, the pioneering R&B/jazz vocalist Georgie Fame received the PPL Lifetime Achievement Award, and subsequently blew the roof off the Assembly Hall with a performance of the great Bobby Timmons song "Moanin'", featuring an excellent quartet led by Guy Barker.
La La Land and Whiplash director Damien Chazelle, who trousered the Best Director gong at this year's Oscars, received the Impact Award for bringing jazz to wider audiences. In his video message, Chazelle confessed to being "jazz-obsessed my whole life; as a former wannabe jazz musician. I was never quite good enough to make it, so I decided to film jazz musicians instead and try to put jazz on screen."
With a shortlist that included the sterling talents of Carleen Anderson and Polly Gibbons, the inimitable Norma Winstone, whose 75th birthday concert at Cadogan Hall last year as part of the London Jazz Festival is still fresh in the memory, picked up Vocalist of the Year.
Charlie Watts, a lifelong jazz fan who also performs with his own Quintet and Tentet, made it a trio of awards for the Stones when he picked up the Gold Award – presented to him by the great sax player and free improv icon, Evan Parker – in recognition of his significant contribution to jazz and blues.
A key collaborator on David Bowie's Blackstar, as well as a composer, bandleader and member of the great Maria Schneider Orchestra, US sax player McCaslin didn't go home empty-handed, picking up the International Jazz Artist of the Year and playing music from his shortlisted album Beyond Now, a recording both inspired by, and dedicated to, Bowie.
Congratulating McCaslin in a video message, Bowie's long-standing producer Tony Visconti said: "When we did Blackstar together you blew our minds because you're a one-take guy…If it wasn't for you, Blackstar wouldn't be the success that it is."
The full list of winners:
Instrumentalist of the Year: Nikki Yeoh
Soul Artist of the Year: Laura Mvula
Breakthrough Act of the Year: Yussef Kamaal
Blues Artist of the Year: The Rolling Stones
Vocalist of the Year: Norma Winstone
International Jazz Artist of the Year: Donny McCaslin
Album of the Year (public vote): The Rolling Stones, Blue & Lonesome
UK Jazz Act of the Year (public vote): Shabaka Hutchings
Digital Initiative of the Year: Gilles Peterson – Worldwide FM
Jazz Innovation of the Year: Jaimeo Brown
LIVE EXPERIENCE OF THE YEAR – Public Vote:
– Ashley Henry Trio at Jazz Re:Fest, Royal Festival Hall
– Cory Henry & The Funk Apostles at Glee Club Birmingham
– Julian Arguelles with Frankfurt Radio Big Band, Django Bates & Steve Argüelles at Cheltenham Jazz Festival
WINNER – Orphy Robinson All Stars – The Bobby Hutcherson Songbook at St James The Great, London
– Roberto Fonseca Trio at Gateshead International Jazz Festival, Sage Gateshead
– Wayne Shorter Quartet at EFG London Jazz Festival, Barbican.
Impact Award: Damien Chazelle
PPL Lifetime Achievement Award: Georgie Fame
Gold Award: Charlie Watts.
http://www.musicweek.com/talent/read/rolling-stones-laura-mvula-and-gilles-peterson-among-big-winners-at-jazz-fm-awards/068266
The Jazz FM Awards 2017 is a partnership between Jazz FM and Serious and is made possible with the support of PPL, Mishcon De Reya, PRS for Music, British Airways, Rathbones, Pollitt & Partners, Oris Watches, Grange Hotels, RCS, Everyman, SharpStream, Denbies Wine Estate, Boxer Gin, Fever Tree, Yamaha, The Piano Bar Soho and Arqiva.
——————————————————————————————————————
London tribute to Van Morrison's legendary Astral Weeks..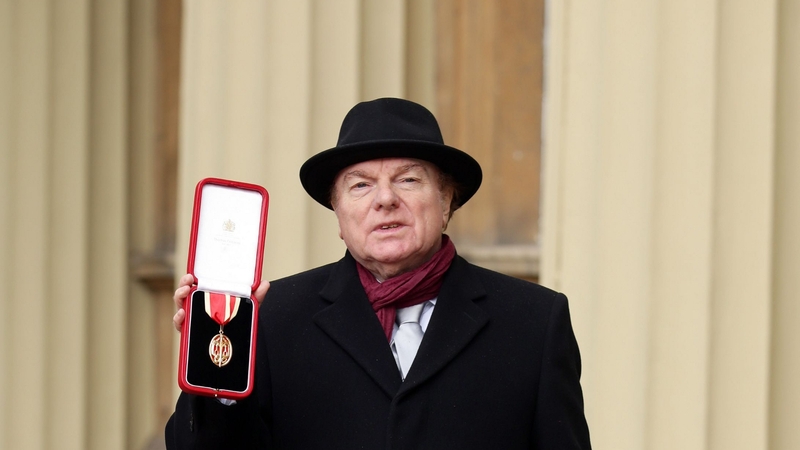 Van Morrison's legendary album Astral Weeks will be the subject of a fascinating                                                                                      live event in London on March 16. 2017 marks the 50th anniversary of Astral Weeks,                                                                         widely-regarded as Van Morrison's creative masterpiece. With its combination of                                                                                     jazz, folk and soul influences, it's widely regarded as one of the most influential                                                                                    albums of the 20th century.Leading UK vibes player and Jazz Warrior Orphy                                                                                      Robinson has brought together a new generation of UK jazz players to reinterpret                                                                                      the transcendental arrangements of Astral Weeks for a live performance of the album.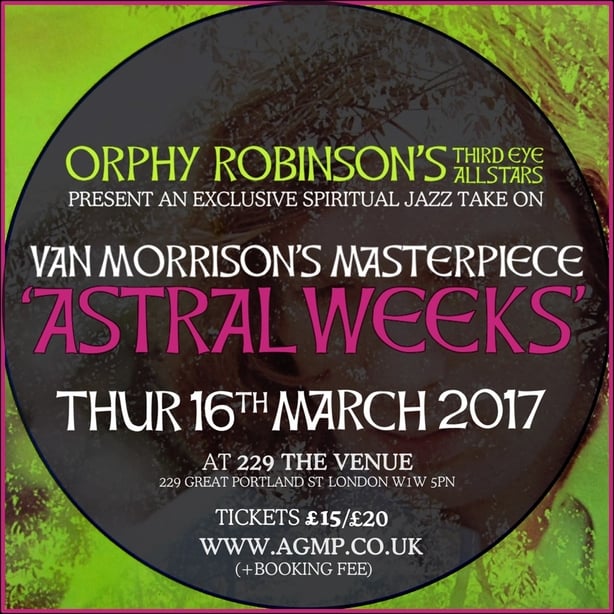 The group – formed especially for the night – includes musicians who've worked                                                                                          for the likes of KT Tunstall, Ian Dury, Robert Wyatt, Bill Withers, Amy Winehouse,                                                                              Goldie and Bjork. This is a serious line-up.
 The gig takes place at well-known music venue and dance club, 229 The Venue,                                                                                     which is based on Great Portland Street in central London. Tickets are priced                                                                                                 at £21.50 and are available online at 229thevenue.com.
It promises to be quite a unique night celebrating Van the Man's masterpiece.
---
Jazz Special: Paul Bradshaw with Orphy Robinson // 02-03-17
Paul Bradshaw is founder of Straight No Chaser, with a record collection that matches                                                                                                     the depth and variety of his iconic magazine. To mark our jazz special, he'll be joined by                                                                                        Warriors Int. vibes-master, Orphy Robinson to talk about his Third Eye All Stars' much                                                                                  anticipated rendering of Van Morrison's 1968 masterpiece Astral Weeks.
PLAYING TRACKS BY
Jimi Hendrix, Mike Taylor Remembered, John Handy,                                                                                                                                      The Mothers Of Invention, Love and more.
CHART POSITIONS
This upload was 6th in the Folk chart , 7th in the World Music chart , 34th in the Funk chart ,                                                                                                                                           43rd in the Jazz chart and 46th in the Soul chart .
TAGGED
--------------------------------------------
Orphy Robinson All star's Bobby Hutchinson tribute nominated for Jazz fm
LIVE EXPERIENCE OF THE YEAR 2017 at the Jazz Fm Awards.