If your name isn't Van Morrison, it takes some kind of courage to tackle Astral Weeks, one of the sacred texts of the late '60s. No one has ever really explained how the singer, his American musicians and Larry Fallon, the arranger and conductor, and his producer, Lewis Merenstein, came up with the unique blend of idioms that make the album so distinctive. Jazz, folk, rock and blues are all in there, but so thoroughly metabolised that the eight songs create, for the length of a long-playing record, an idiom of their own. In his lyrics, too, Morrison plunged head-on into a new world of poetic spirituality.
So when Orphy Robinson and the Third Eye All Stars presented the album at the Jazz Café last night, there was an element of risk. Morrison himself performed it in its entirety on a tour in 2009, but it was his right to do so, and he brought it off quite satisfactorily, although he couldn't quite summon the magic that had occurred during three rushed days in the late summer of 1968, when he worked with musicians he didn't know in a line-up that adhered to no known formula. The idea of someone else taking on this precious and delicate creation and trying to invent variations on its wild, hypnotic swirl of emotions seemed foolhardy, to say the least.
As it turned out, there was no need to worry. The 10-piece Third Eye band — Robinson on vibes and percussion, singers Joe Cang and Sahra Gure, flautist Rowland Sutherland, cellist Kate Shortt, Justina Curtis on electric piano, acoustic guitarists Mo Nazam and John Etheridge, bassist Neville Malcolm and drummer Mark Mondesir — chose not to attempt a radical reinterpretation of the material. They played it straight, content to infuse the music with their own freewheeling spirit.
A couple of solos — Sutherland on "Cyprus Avenue" and Robinson on "The Way Young Lovers Do" — brought the house down, while Malcolm and Mondesir did a fine job of following the template established on the original by Richard Davis and Connie Kay, who had no idea who Morrison was when they turned up for the sessions but found themselves devising a new application for their jazz chops in service of the grumpy little Irishman who barely spoke to them.
Neither Cang nor Gure attempted to imitate Morrison. They just sang the songs with a respect that did not prevent them from injecting their own energy into this hallowed material. I had never imagined that I would want to hear anyone singing "Madame George" other than its creator, but Cang — after successfully calling for quiet as the guitars strummed the intro — delivered it in a way that, like the whole evening, did no disservice to a high-wire masterpiece.
It felt like I was there…thanks, Richard

October 21, 2017

Thanks for the review. As ever,your description of the music and the background context bring an event to life.

I'd've been there in a shot if I'd not already had tickets for something else. I've long felt that Astral Weeks was crying out for a Jazz interpretation, simply because it has at its root such a strong Jazz influence – you don't come much better than Richard Davis and Connie Kay. We should be eternally grateful that, for whatever reasons, Van Morrison was prepared to let them play and not try and arrange them.

All power to Orphy Robinson for taking on the task, and risk, of reinterpreting something that has become hallowed and has so many steadfast admirers. Congratulations to them all for making such a good job of it. I hope the success (looks like a good crowd too) encourages them to perform it again. A recording would be icing on the cake.                                                                                 ——————————————————————–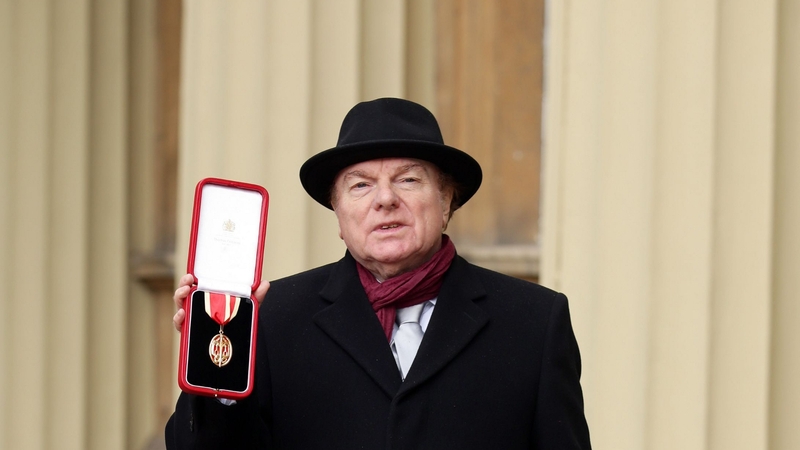 Van Morrison's legendary album Astral Weeks will be the subject of a fascinating                                                                                      live event in London on March 16. 2017 marks the 50th anniversary of Astral Weeks,                                                                                                                 widely-regarded as Van Morrison's creative masterpiece. With its combination of                                                                                     jazz, folk and soul influences, it's widely regarded as one of the most influential                                                                                    albums of the 20th century.Leading UK vibes player and Jazz Warrior Orphy                                                                                      Robinson has brought together a new generation of UK jazz players to reinterpret                                                                                      the transcendental arrangements of Astral Weeks for a live performance of the album.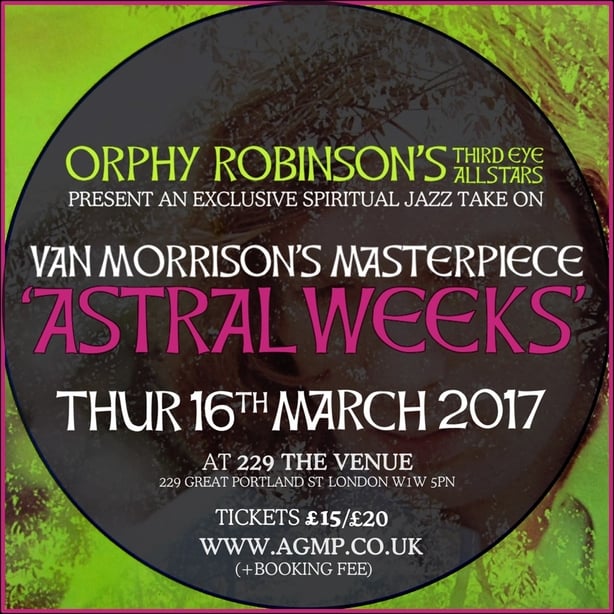 The group – formed especially for the night – includes musicians who've worked                                                                                          for the likes of KT Tunstall, Ian Dury, Robert Wyatt, Bill Withers, Amy Winehouse,                                                                              Goldie and Bjork. This is a serious line-up.

 The gig takes place at well-known music venue and dance club, 229 The Venue,                                                                                     which is based on Great Portland Street in central London. Tickets are priced                                                                                                 at £21.50 and are available online at 229thevenue.com.

It promises to be quite a unique night celebrating Van the Man's masterpiece.

———————————————————————————————-
About the show
PLAYING TRACKS BY
Jimi Hendrix, Mike Taylor Remembered, John Handy, The Mothers Of Invention, Love and more.
CHART POSITIONS
This upload was 6th in the Folk chart , 7th in the World Music chart , 34th in the Funk chart , 43rd in the Jazz chart and 46th in the Soul chart .
Paul Bradshaw is founder of Straight No Chaser, with a record collection that matches the depth and variety of his iconic magazine. To mark our jazz special, he'll be joined by Warriors Int. vibes-master, Orphy Robinson to talk about his Third Eye All Stars' much anticipated rendering of Van Morrison's 1968 masterpiece Astral Weeks.